---
Rescue Course
Are you ready to take your diving knowledge further and learn a whole new set of skills?
The PADI Rescue Diver course is ideal if you want to expand your diving knowledge, learn how to prevent problems, and how to manage them if they occur. In just three days, you can become a PADI Rescue diver!
---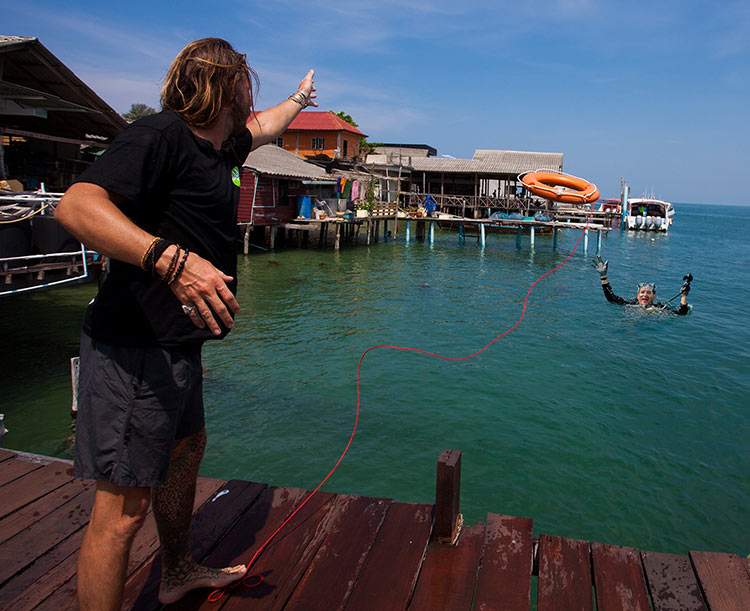 ---
PADI Rescue Course
The PADI Rescue Course is described by some as challenging but rewarding, with many saying they found the course the most enjoyable experience of their diving career. You will take part in scenarios that teach you how to effect a rescue of yourself, recognize and manage stress in other divers, emergency management and equipment use and how to rescue panicked divers and unresponsive divers. And all this, surrounded by the amazing background of Koh Lanta´s dive sites. 
Our promise to you
We are passionate about diving and teaching. We promise to take as much time as you need to make you the best diver you can be. To make that happen, our groups are small so you get the attention you need. We normally conduct the PADI Rescue Diver course over three days.
Pre-requisites
Qualifications – PADI Adventure Diver course, or equivalent qualification, and within the last two years being trained as an Emergency First Responder or equivalent First Aid and CPR qualification.
Minimum age – 12 years old.
Medical form – you will need to complete a form to certify you are fit to dive. Please take a look at this medical form to see if any of the conditions apply to you. If they do, then you can either see your family doctor or we can assist you in arranging an appointment with a doctor here so that you can be certified fit to dive.
Course Structure
Diving theory – you are required to watch a DVD and to read the PADI Rescue Diver manual. You will complete a knowledge review at the end of each chapter and take a multiple-choice examination. You can do this at our dive center or at home via the e-learning method before you arrive.
Rescue Training Sessions – we will take you either to our pool or off our pier, where you will complete the rescue training sessions.
Open Water Scenarios – you will spend one day on our boat, where you will complete a number of rescue diving scenarios.
Included in the cost of the course
All PADI materials and certification, drinks, lunch on theory day, breakfast and lunch on the diving day, transfer to and from your resort.
Not included in the cost
Marine park fees. 600 Baht per person per day.
When you pass your course
With the PADI Rescue Diver certification, you will find that you gain more awareness of yourself and others during your diving experience. It does not increase the depths at which you are allowed to dive.
Your next adventure
On completion of this course, you can complete PADI Specialty courses leading to the PADI Master Scuba Diver qualification or begin your professional journey by taking the PADI Divemaster course.
---
---
Save money by booking on-line
Book your dives online at least one week in advance and get a 10% discount!
Book an Appointment
---