---
Open Water Diver
Are you ready to take that first step and get your diving qualification? Then get your PADI Open Water in Koh Lanta!
A whole new underwater world will open up to you. In just three days, you can become a PADI diver!
---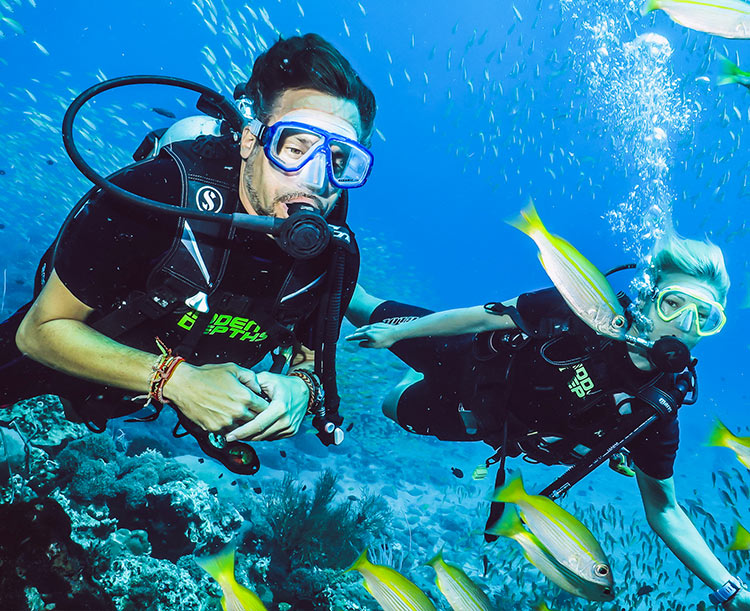 ---
PADI Open Water Course
The PADI Open Water course is the complete introductory course to diving. The course is fun and informative, teaching you about dive theory, marine life, and introducing the equipment you will use whilst diving. You will have the unforgettable experience of breathing underwater and seeing a new world unfold before you. Diving will change your life!
Our promise to you
We are passionate about diving and teaching. We promise to take as much time as you need to make you the best diver you can be. To make that happen, our groups are small so you get the attention you need. We conduct the PADI Open Water course over three or four days – you choose the pace, the cost stays the same.
Prerequisites
Qualifications – none
Minimum age – 15 years old (or 10 years old for Junior Open Water certification)
Medical form – you will need to complete a form to certify that you are fit to dive. Please take a look at this medical form to see if any of the conditions apply to you. If they do, then you can either see your family doctor or we can assist you in arranging an appointment with a doctor here so that you can be certified fit to dive.
Course Structure
Diving theory – you will be required to watch a DVD and to read the PADI Open Water manual. At the end of each chapter, you will complete a knowledge review. There are also quizzes and a multiple-choice examination. You can complete the theory at the center or home via the e-learning method before you arrive.
Confined dives – we will take you to our pool where you will complete five confined dives.
Open Water dives – you will spend two days on our boat, where you will complete four open water dives.
Included in the cost of the course
All PADI materials and certification, drinks, lunch on theory day, breakfast and lunch on the diving day, transfer to and from your resort, free logbook.
Not included in the cost
Marine park fees. 600 Baht per person per day.
When you pass your course
The PADI Open Water certification allows you to dive independently to 18 meters.
Your next adventure
On completion of this course, you can move on to an Adventure Dive, the PADI Advanced Open Water course or complete a PADI Specialty course.
---
---
Save money by booking on-line
Book your dives online at least one week in advance and get a 10% discount!
Book an Appointment
---