---
Divemaster Course
The PADI Divemaster Course is the first step of your professional career in the diving industry. Let´s go pro on Koh Lanta!
---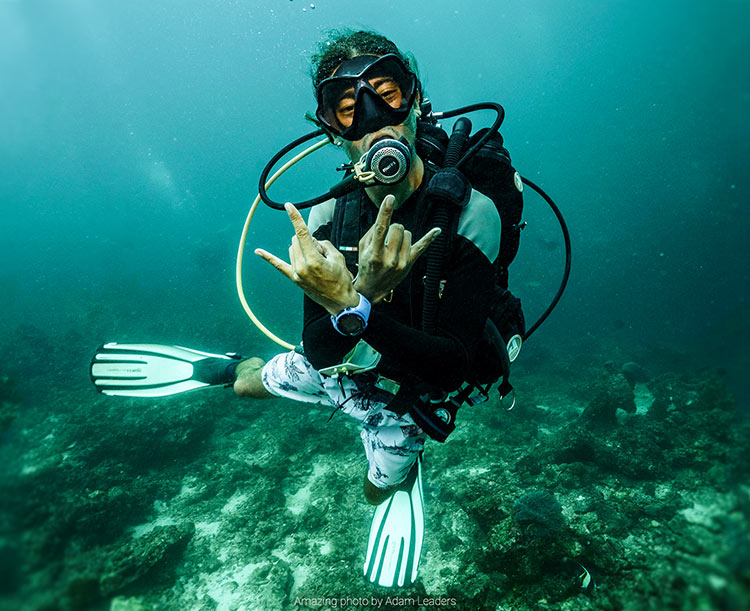 ---
PADI Divemaster Course
Before you rush to sign up for the course, however, you need to take a minute to make some important decisions. How long do you have to do the course? Where do you want to do the course? Do you want to qualify in a large or small dive center? These are all important questions you need to think about.
We are a small, friendly dive center, focused on providing our trainees with the experience of a lifetime. The fact that we are small means that you can become involved in all aspects of dive center life. We want our trainees to gain the skills and experience that will lead them to become competent and confident professionals.
We will allocate you a mentor, who will guide and support you through your journey to your professional qualification. You will work with all our instructors so that you can gain different perspectives and learn from their experiences. We aim to provide a nurturing environment where you will receive support from the whole management team.
We recommend that you allow 4-6 weeks to complete the course. The more time you spend with us, the more experience you gain.
The course involves
Theory – you will study several topics that are invaluable to you as a dive professional. This can be completed before your arrival through PADI e-learning.
Water stamina – you will undertake some tests to show your swimming abilities.
Skill Circuit – you will master the skills from the PADI Open Water course to enable you to deliver these skills professionally.
Guiding – under the direct supervision of a PADI Instructor, you will develop the skills and approach necessary to guide qualified divers.
Conservation
We strongly believe that once you have completed your course, you are in a unique position to influence all the divers you encounter in your professional life. By teaching you the importance of the ecosystem, you can have a positive impact on those you dive with.
We do that by:
· Offering free PADI Conservation Specialty Courses in Coral Conservation and Shark Conservation (excludes PADI fee).
· We offer a Buoyancy Awareness workshop to highlight the damage caused to reefs by poor buoyancy and discuss methods to educate divers.
· We lead by example. Our dive center was designed specifically to consider the environmental impact it would have. We will conduct a training session where we take you through each aspect of our impact on the environment and discuss how we reduce that impact.
What else do we offer?
In addition to the compulsory aspects of the course, we also offer the following training:
· Workshop in equipment maintenance
· Presentations on topics relevant to the professional diver, such as on and off-gassing, ears, the SCUBA system, and dive table usage.
· Visit to ACE Engineering, for a workshop on compressors and tanks.
· Retail and sales training.
· Presentation on customer relations.
Prerequisites
Minimum Age – 18 years old.
Before you can begin the course, you must be certified as a PADI Advanced Open Water Diver and PADI Rescue Diver, or their equivalent certifications with other training organizations.
You must have completed either an Emergency First Responder Primary and Secondary Care course or an equivalent qualification within the last two years. If you do not reach this level of certification, we can conduct whatever courses remain outstanding.
You must have 40 logged dives and provide evidence.
All professional-level courses require that you have a full in-date (within 12 months) diving medical before starting the course. This can be obtained on the island for a small fee.
What you need to know!
Course fee 42,000 baht. If you need to obtain further qualifications or complete additional dives, please speak to us for a quote.
Included in the fee is a crew pack: Divemaster manual, RDP tables, Encyclopaedia of Recreational Diving, PADI Instructor manual, Diving Knowledge Workbook, and Divemaster Slates.
We Include in the course fee at least 20 dives from our speedboat.
You should have your own full set of diving equipment. If you do not, we can sell you the equipment at a preferential rate, or we can rent it to you at an additional cost.
You are required to provide a logbook to record your dives.
Not included in the cost
PADI professional fees (paid directly to PADI), medical fees, insurance, accommodation, and travel costs.
When you pass your course
Once you have completed the course, you can guide qualified divers, assist instructors to teach student divers and undertake Scuba Refreshers.
Your next adventure
On completion of this course, you can move on to Instructor. Check out our IDC program and join us to reach the instructor level.
---
---
Save money by booking on-line
Book your dives online at least one week in advance and get a 10% discount!
Book an Appointment
---